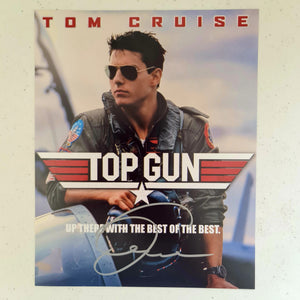 Tom Cruise Autographed Top Gun 8x10 Photo COA #TC11147
Looking for a unique and rare addition to your collection? Look no further than this stunning 8x10 photograph of Tom Cruise in his iconic Top Gun role, complete with an authentic signature and authentication from the trusted experts at Authentication Services Australia.

Tom Cruise needs no introduction, as he has been a Hollywood icon for decades, starring in blockbuster hits such as Top Gun, Mission Impossible, and Jerry Maguire. With his charming smile and undeniable talent, Tom has captured the hearts of audiences around the world, making him one of the most beloved actors of our time.

This autographed photograph is a true treasure, offering a glimpse into one of Tom's most memorable roles, and a piece of movie history that will only become more valuable with time. Don't miss your chance to own a piece of Hollywood magic and a stunning addition to your collection. Order now!
#movie autographed memorabilia