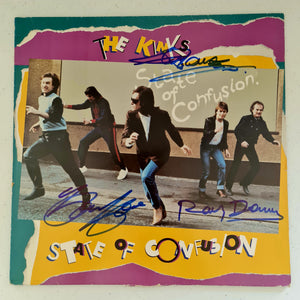 The Kinks Autographed 'State Of Confusion' LP COA #TK47334
The Kinks members Ray Davies, Dave Davies & Mick Avory autographed this LP on the 21st of June 1993 in Berlin/Germany - except Mick Avery which was the 10th May
2007 in London, UK.

May 10th, 2007 was part of a reunion tour of the iconic British rock band, The Kinks. The tour featured original members Ray Davies, Dave Davies, and Mick Avory,
and was a highly anticipated event for Kinks fans.

The Kinks' 'State of Confusion' LP was released in 1983 and is one of the band's most successful and critically acclaimed albums. The album features hit songs such
as "Come Dancing," "State of Confusion," and "Don't Forget to Dance," and was a commercial success both in the UK and the US.

Attention music lovers and collectors! Don't miss out on this incredible opportunity to own a piece of rock and roll history - an autographed album cover of "State
of Confusion" from the iconic British band, The Kinks.

Formed in the early 1960s, The Kinks quickly rose to fame with hits like "You Really Got Me" and "All Day and All of the Night." Led by the talented singer-songwriter
Ray Davies, the band continued to produce chart-topping albums throughout the decades, solidifying their place in music history.

"State of Confusion" is widely regarded as one of The Kinks' greatest albums, featuring hits like "Come Dancing" and "Don't Forget to Dance." This autographed album
cover has been authenticated by the trusted third-party service, Authentication Services Australia, ensuring its value and authenticity.

Whether you're a die-hard fan of The Kinks or a collector of rare and unique music memorabilia, this autographed album cover is an absolute must-have.
Display it proudly in your home or office, and let it serve as a reminder of the incredible legacy of one of rock and roll's greatest bands.

Order now to add this piece of music history to your collection, and take a step back in time to the golden age of rock and roll.
Tags:
# Music Memorabilia