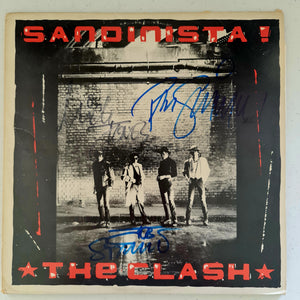 The Clash Autographed 'Sandinista!' LP COA #TC14147
The Clash members Joe Strummer, Mick Jones & Paul Simonon autographed this LP on the 17th of May 1981 in Berlin, Germany.

May 17th, 1981 was part of a tour by the legendary English punk rock band The Clash. The band was known for their politically charged and socially conscious music, as well as
their rebellious and confrontational attitude. The original members of The Clash included Joe Strummer, Mick Jones, Paul Simonon, and Topper Headon.

Are you a fan of punk rock legends The Clash? Then you won't want to miss this amazing opportunity to own an autographed album cover of their iconic record, "Sandinista!"

The Clash formed in London in 1976 and quickly became known for their politically charged lyrics, blistering guitar riffs, and high-energy live performances. "Sandinista!" was released in 1980 and is widely regarded as one of their best albums, featuring hit songs like "The Magnificent Seven" and "Police on My Back."

This autographed album cover has been authenticated by Authentication Services Australia, so you can rest assured that it is a genuine piece of memorabilia. It features the signatures of all four members of The Clash: Joe Strummer, Mick Jones, Paul Simonon, and Topper Headon.

Whether you're a lifelong fan of The Clash or just discovering their music for the first time, this autographed album cover is an amazing addition to any collection. Not only
is it a piece of rock history, but it also comes with the peace of mind that comes with third-party authentication.

Don't miss your chance to own this incredible piece of punk rock history. Order now and add it to your collection today!
Tags:
# Music Memorabilia