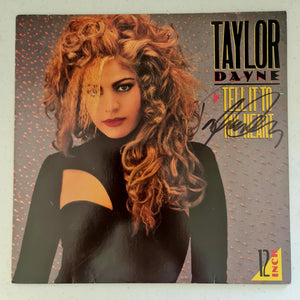 Taylor Dayne Autographed  'Tell It To My Heart' LP COA #TD35745
Taylor Dayne autographed this LP on the 10th of May 1988 in Berlin, Germany.

May 10th, 1988 was part of a tour by the American singer and songwriter Taylor Dayne, who was known for her powerful vocals and dance-pop hits in the late 1980s and early 1990s.

The Berlin concert on May 10th, 1988 was likely an exciting and memorable moment for Dayne and her fans. Dayne was known for her energetic live performances, and her concerts were often full of energy and fun.

Looking for a rare and valuable addition to your music collection? Look no further than this autographed album cover of "Tell It To My Heart" by Taylor Dayne, authenticated by
Authentication Services Australia!

Taylor Dayne is a pop icon known for her powerful vocals and catchy dance tracks. Born in New York City, she began her career as a singer in the late 1980s and quickly rose to
fame with her debut album, "Tell It To My Heart." The album spawned several hit singles, including the title track, "Prove Your Love," and "I'll Always Love You," and cemented
Taylor's place in the pop music pantheon.

Since then, Taylor has released several more albums and continued to tour and perform around the world. She has also expanded her career into acting, appearing in several films and TV shows.

This autographed album cover is a must-have for any Taylor Dayne fan or collector of music memorabilia. Not only is it a rare and valuable piece, but it has also been authenticated by a trusted third-party service, ensuring its authenticity and value.

Don't miss your chance to own this piece of music history. Order now and add it to your collection today!
Tags:
# Music Memorabilia