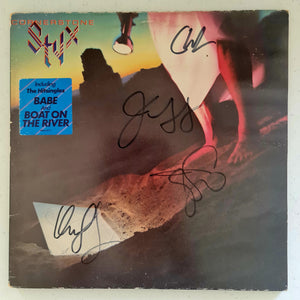 Styx Autographed 'Cornerstone' LP COA #SX54879
Styx members James Young, Dennis deYoung, Chuck Panozzo & Tommy Shaw autographed this LP on the 2nd of December 1981 in Berlin, Germany.

December 2nd, 1981 was part of a tour by the American rock band Styx. The band was known for their progressive and hard rock music, as well as their enduring career and numerous hit songs over the years. The members of Styx during this time period were James Young, Dennis deYoung, Chuck Panozzo, and Tommy Shaw.

Looking for a rare and authentic piece of rock memorabilia? Look no further than this autographed album cover of Styx's "Cornerstone," authenticated by Authentication Services Australia!

Styx is one of the most iconic rock bands of all time, known for their epic songs, dynamic stage presence, and timeless appeal. Originally formed in Chicago in the early 1970s, the band quickly gained a devoted following thanks to hits like "Lady," "Come Sail Away," and "Renegade."

"Cornerstone," released in 1979, was a pivotal album for Styx, featuring some of their most beloved songs, including "Babe," "Boat on the River," and "First Time." The album went on to become one of their most successful, reaching platinum status and cementing their place in rock history.

This autographed album cover is a rare and valuable piece of Styx memorabilia, featuring the signatures of the band members themselves. Authenticated by a trusted third-party service, it is guaranteed to be authentic and of the highest quality.

Whether you're a die-hard Styx fan or a collector of rock memorabilia, this autographed "Cornerstone" album cover is a must-have. Order now and add it to your collection today!
Tags:
# Music Memorabilia