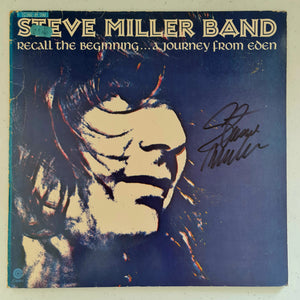 Steve Miller Band Autographed 'Recall the Beginning ...' LP COA #SM49762
Steve Miller autographed this LP on the 31st of October 2012 in Berlin, Germany.

October 31st, 2012 was part of a tour by the American rock musician Steve Miller. Miller is known for his blues-influenced rock music, as well as his enduring career and numerous
hit songs over the years. He has been inducted into the Rock and Roll Hall of Fame and has won multiple awards for his contributions to music.

Attention Steve Miller Band fans and music collectors! We have a rare find for you: an autographed album cover of "Recall the Beginning...." from the iconic Steve Miller, authenticated by Authentication Services Australia.

Steve Miller is a legendary American singer-songwriter and guitarist, known for his blues-infused rock music and catchy hits. He formed the Steve Miller Band in the late 1960s and went on to release numerous albums that have become classics in the rock genre.

"Recall the Beginning" is one such album, released in 1972, featuring hits like "Don't Let Nobody Turn You Around" and "High on You Mama." This autographed album cover is a true gem for any Steve Miller fan, as it not only features his signature but has also been authenticated by a trusted third-party service, ensuring its authenticity and value.

Imagine displaying this album cover in your music room or adding it to your collection of rare vinyl. This is a unique piece of music history that any true Steve Miller fan would be proud to own.

Don't miss out on this opportunity to own a piece of Steve Miller's legacy. Order now and add this autographed album cover to your collection today!
Tags:
# Music Memorabilia