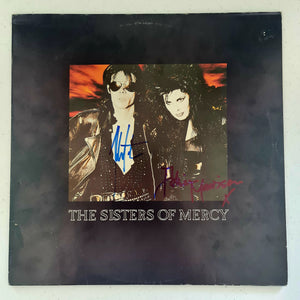 Sister Of Mercy Autographed LP COA #SM55597
Sister Of Mercy members Andrew Eldritch & Patricia Morrison autographed this LP on the 3rd of October 1988 in London, UK.

October 3rd, 1988 was part of a tour by the English rock band The Sisters of Mercy, which featured members Andrew Eldritch and Patricia Morrison. The Sisters of Mercy were known for their dark and brooding music, which blended elements of post-punk, gothic rock, and industrial music.

Looking for a rare and authentic piece of music memorabilia? Check out this autographed album cover of "Self Titled" by the iconic gothic rock band Sister Of Mercy, authenticated by Authentication Services Australia.

Sister Of Mercy was formed in Leeds, England in 1980 by lead singer Andrew Eldritch and guitarist Gary Marx. The band quickly gained a cult following for their unique blend of dark, brooding music and provocative lyrics. "Self Titled," their debut album released in 1985, is considered a classic of the gothic rock genre and features hits like "Alice" and "Marian."

This autographed album cover is a must-have for any fan of Sister Of Mercy or collector of music memorabilia. Not only is it a stunning piece of art, but it has also been authenticated by a trusted third-party service, ensuring its authenticity and value.

Whether you're a die-hard fan or just discovering the band, this autographed album cover is the perfect addition to your collection. Don't miss out on this rare and unique opportunity to own a piece of music history. Order now and treasure it for years to come!
Tags:
# Music Memorabilia