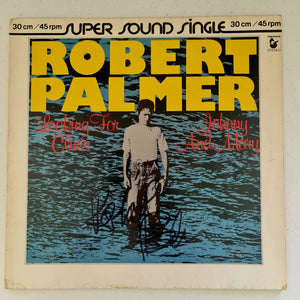 Robert Palmer Autographed 'Looking for Clues' LP COA #RP49735
Robert Palmer autographed this LP on the 6th of October 1988 in Berlin, Germany.

October 6th, 1988 was part of a tour by the English singer-songwriter Robert Palmer, who was known for his soulful voice and eclectic blend of rock, pop, and R&B music. Palmer had a successful career in the music industry, with hits such as "Addicted to Love," "Simply Irresistible," and "Bad Case of Loving You (Doctor, Doctor)."

Attention Robert Palmer fans! We are thrilled to offer you a rare opportunity to own an autographed 8x10 photograph of Robert Palmer's iconic "Looking for Clues" album cover. This stunning piece of music memorabilia has been authenticated by the reputable Authentication Services Australia, ensuring that you are getting an authentic and genuine autograph.

Robert Palmer was a British musician who rose to fame in the 1980s with his unique blend of rock, pop, and soul. He had numerous hits including "Addicted to Love," "Simply Irresistible," and "I Didn't Mean to Turn You On." His suave style and distinctive voice made him a beloved icon of the era, and his music continues to be celebrated today.

This autographed LP captures Robert Palmer at the height of his fame, standing confidently with his hands on his hips, surrounded by colorful geometric shapes. It is a
stunning piece of artwork that would make an excellent addition to any music fan's collection. Whether you're a lifelong fan of Robert Palmer or a newcomer to his music, this autographed photograph is sure to be a cherished possession.

Don't miss your chance to own this one-of-a-kind piece of music history. Order now and enjoy the satisfaction of owning a piece of Robert Palmer's legacy.
Tags:
# Music Memorabilia