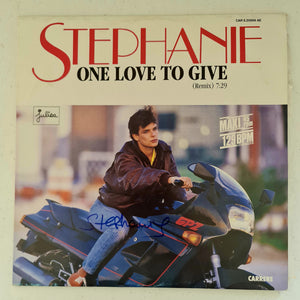 Princess Stephanie Autographed 'One Love to Give' LP COA #PS44978
Princess Stephanie autographed this LP on the 1st of October 1988 in Paris, France.

October 1st, 1988 was part of a tour by Princess Stephanie of Monaco, who is a member of the Monegasque royal family. Princess Stephanie is known for her philanthropy and her work in the fields of arts and culture, as well as her involvement in various charitable organizations.

For all you collectors and fans of Princess Stephanie, we have an exclusive offer that you simply can't resist! We are thrilled to present to you a rare autographed album cover of Princess Stephanie's hit album 'One Love to Give,' authenticated by Authentication Services Australia.

This is a once-in-a-lifetime opportunity to own a piece of music history that has been personally signed by Princess Stephanie. This album cover is in pristine condition, carefully preserved to ensure that the signature remains in the same condition as it was when it was signed.

Princess Stephanie is a prominent figure in the music industry, with a career spanning over several decades. She has released many albums throughout her career, with 'One Love to Give' being one of her most popular works. The album was a huge commercial success, with its hit singles receiving widespread critical acclaim.

Princess Stephanie's music is known for its catchy hooks, uplifting melodies, and powerful lyrics that resonate with fans all over the world. Her unique style and sound have made her an icon in the music industry and a beloved figure among her fans.

Don't miss out on this incredible opportunity to own a piece of music history. With the authentication by Authentication Services Australia, you can be sure that this autographed album cover is authentic and genuine. Get your hands on this rare collector's item today and add it to your collection!
Tags:
# Music Memorabilia