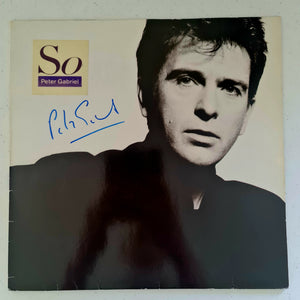 Peter Gabriel Autographed 'So' LP COA #PG22248
Peter Gabriel autographed this LP on the 20th of May 1993 in Munich, Germany.

May 20th, 1993 was part of a tour by the English musician and songwriter Peter Gabriel, who is known for his eclectic and innovative music, as well as his pioneering work in the field of music videos and visual art. Gabriel had a successful solo career, as well as a member of the progressive rock band Genesis.

Looking for a rare and valuable addition to your music collection? Look no further than this autographed album cover of Peter Gabriel's iconic album 'So', authenticated by Authentication Services Australia.

Peter Gabriel is a British singer-songwriter and musician, known for his powerful vocals and innovative music videos. 'So' was released in 1986 and features hit songs such as "Sledgehammer" and "In Your Eyes". The album reached #1 on the UK charts and was certified quintuple platinum in the US.

This autographed album cover is a must-have for any Peter Gabriel fan or music collector. The signature is clear and bold, making it a standout piece in any collection. And with authentication from one of the most reputable services in the industry, you can be confident that you're getting a genuine piece of music history.

Don't miss your chance to own this rare and valuable autographed album cover of Peter Gabriel's 'So'. Contact us today to make an offer and add it to your collection.
Tags:
# Music Memorabilia