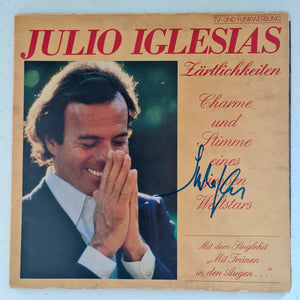 Julio Iglesias Autographed 'Zartlichkeiten' LP COA #JI22268
Julio Iglesias autographed this LP on the 13th of May 1989 in Innsbruck, Austria.

May 13th, 1989 was part of a tour by the Spanish singer Julio Iglesias, who is known for his smooth voice and romantic ballads. Iglesias had a successful career in the music industry, with hits such as "To All the Girls I've Loved Before," "Hey," and "Nathalie."

Looking for a unique and valuable addition to your collection of autographed memorabilia? Look no further than this stunning autographed album cover of Julio Iglesias' 'Zartlichkeiten', authenticated by Authentication Services Australia!

Julio Iglesias is a world-renowned singer, songwriter, and musician who has sold over 300 million records worldwide. Born in Madrid, Spain, in 1943, Julio began his musical career in the 1960s and rose to international fame in the 1970s and 1980s with hits like "To All the Girls I've Loved Before" and "Hey". He is known for his romantic ballads, smooth vocals, and incredible stage presence, and has been honored with numerous awards and accolades throughout his career.

This autographed album cover of 'Zartlichkeiten' is a true gem for any Julio Iglesias fan or collector of autographed memorabilia. The album features some of Julio's most beloved songs, including "Wenn ein Schiff vorüberfährt" and "Einmal, wenn du gehst". The autograph has been authenticated by Authentication Services Australia, a leading provider of autograph authentication services, ensuring its authenticity and value.

Don't miss your chance to own this rare and unique piece of music history. Whether you're a longtime fan of Julio Iglesias or simply looking to add to your collection of autographed memorabilia, this autographed album cover is sure to impress. Order now and enjoy the beauty and value of this exquisite piece for years to come.

Autographed memorabilia, Julio Iglesias, Zartlichkeiten, Authentication Services Australia, autograph authentication services, music history, valuable, rare, unique.
Tags:
# Music Memorabilia