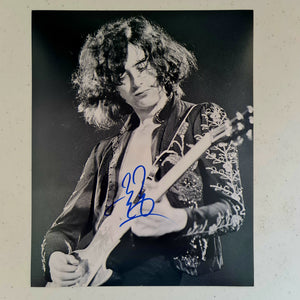 Jimmy Page Autographed Led Zeppelin 8x10 Photo COA #JP84975
Looking for a piece of music memorabilia that is not only visually stunning but also authentic? Look no further than this autographed 8x10 photograph of Jimmy Page 'on stage'. This is a must-have for any true music fan or collector of autographed items.

Jimmy Page is a legendary guitarist and songwriter, known for his work as a member of the iconic rock band Led Zeppelin. He is widely considered to be one of the greatest guitarists of all time, and his contributions to music continue to inspire generations of musicians and fans alike.

This photograph captures Page in his element, performing on stage with all the passion and energy for which he is known. The autograph is a true treasure, and is accompanied by a certificate of authenticity from Authentication Services Australia, ensuring its legitimacy.

This piece is perfect for anyone looking to add a unique and valuable item to their collection, or for someone who wants to show their love for Jimmy Page and Led Zeppelin. Don't miss your chance to own a piece of music history.

To purchase this autographed photograph, simply visit our website and place your order. With our fast and reliable shipping, you'll have this amazing piece in your hands in no time. Don't wait - order now and add this incredible item to your collection today!
#music autographed memorabilia