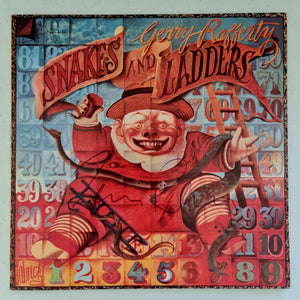 Gerry Rafferty Autographed 'Snakes and Ladders' LP COA #GR55589
Gerry Rafferty autographed this LP on the 12th February 1993 in Hamburg, Germany.

February 12th, 1993 was part of a tour by the Scottish singer-songwriter Gerry Rafferty. Rafferty is known for his soulful and introspective music, as well as his distinctive vocals and songwriting. He had a successful career with hits such as "Baker Street," "Right Down the Line," and "Stuck in the Middle with You."

Are you a fan of Gerry Rafferty's music? Do you collect autographed memorabilia from your favorite artists? Look no further than this autographed album cover of Gerry Rafferty's "Snakes and Ladders," authenticated by Authentication Services Australia.

Gerry Rafferty was a Scottish singer-songwriter known for hits like "Baker Street" and "Right Down the Line." His album "Snakes and Ladders" was released in 1980 and featured the hit single "The Royal Mile (Sweet Darlin')." Rafferty's unique voice and thoughtful lyrics continue to inspire fans around the world.

This autographed album cover is a rare find for any Gerry Rafferty collector. The certificate of authenticity from Authentication Services Australia ensures that the signature is genuine, giving you peace of mind as you add this piece to your collection.

When it comes to autographed memorabilia, authenticity is key. That's why this autographed album cover with a certificate of authenticity is a must-have for any Gerry Rafferty fan. "this autographed memorabilia" and "certificate of authenticity," you can trust that you're getting a high-quality item that will stand the test of time.

Don't miss out on this opportunity to own a piece of music history. Add this authentic autographed album cover of Gerry Rafferty's "Snakes and Ladders" to your collection today!
Tags:
# Music Memorabilia