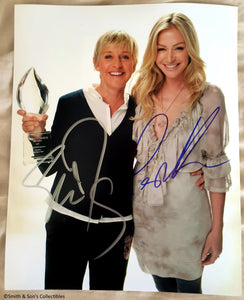 Ellen Degeneres & Portia De Rossi Autographed Glossy 8x10 Photo COA #DR85642
Obtained by an autograph collector/fan.
Inside Ellen DeGeneres and Portia de Rossi's Two-Decade Love Story. ... Their famous romance spans two decades, beginning in the year 2000. Since they first met, the two have cultivated a love so tangible it might just convince millennials that monogamy and marriage can work.
Fully certified Certificate of Authenticity provided with Provenance included.  

#movie autographed memorabilia