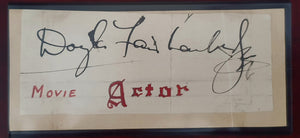 Douglas Fairbanks, Jr. Autographed Vintage Signature Cut COA #DF14698
Obtained by an autograph collector/fan.
Douglas Fairbanks (born Douglas Elton Thomas Ullman; May 23, 1883 – December 12, 1939) was an American actor, screenwriter, director, and producer. He was best known for his swashbuckling roles in silent films including The Thief of Bagdad, Robin Hood, and The Mark of Zorro but spent the early part of his career making comedies.

Fairbanks was a founding member of United Artists. He was also a founding member of The Motion Picture Academy and hosted the 1st Academy Awards in 1929. With his marriage to Mary Pickford in 1920, the couple became Hollywood royalty and Fairbanks was referred to as "The King of Hollywood",a nickname later passed on to actor Clark Gable.
Fully certified Certificate of Authenticity provided with Provenance included.  

#movie autographed memorabilia