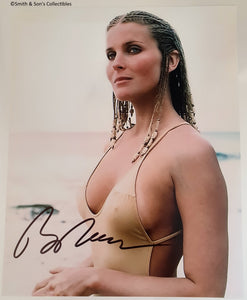 Bo Derek Autographed "10" Glossy 8x10 Photo COA #BD59945
Obtained by an autograph collector/fan.
Bo Derek is an American film and television actress, film producer, and model perhaps best known for her breakthrough film role in the sex comedy 10. She was directed by husband John Derek in Fantasies, Tarzan, the Ape Man, Bolero and Ghosts Can't Do It, all of which received negative reviews.
Fully documented Certificate of Authenticity with provenance provided. With a lifetime online verification.

#movie autographed memorabilia