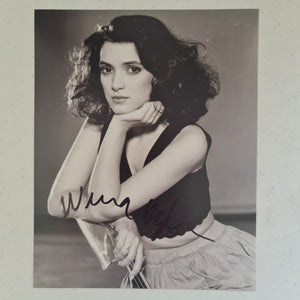 Winona Ryder Autographed 8x10 Photo COA #WR76943
Looking for a rare and unique piece to add to your collection? Look no further than this autographed 8x10 photograph of Winona Ryder!

Not only is this photograph signed by the iconic actress, but it has also been authenticated by Authentication Services Australia, ensuring its authenticity and value. This makes it a truly special item that any fan of Winona Ryder or collector of memorabilia would be proud to own.

Winona Ryder has been a prominent figure in the entertainment industry for decades, known for her captivating performances and unique style.
She has starred in numerous films and television shows, including "Stranger Things," "Beetlejuice," and "Edward Scissorhands," and has received critical acclaim for her work.

This autographed 8x10 photograph captures Winona at her best, and is sure to be a conversation starter wherever it is displayed. Don't miss out on the chance to own a piece of Hollywood history - order your authenticated Winona Ryder photograph today!
#music autographed memorabilia