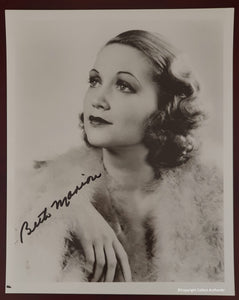 Beth Marion Autographed Vintage Glossy 8x10 Photo COA #BM59762
Obtained by an autograph collector/fan.
Beth Marion, (born Betty Goettsche, July 11, 1912 - February 18, 2003) was a B-movie actress of the 1930s, starring in westerns, her career spanning only about five years, mostly in 1936.
Marion acted in stock theater before entering films. She began her film career in 1935. her films often saw her playing alongside Buck Jones, Johnny Mack Brown, Bob Steele, Jack Luden, and George Houston. In 1935, she played Gail Winters in Between Men, and Judy Baxter in Trail of Terror. In 1936, Marion played Peggy Wyman in Silver Spurs, Mary Mortimer in Avenging Waters, starred in The Fugitive Sheriff with Ken Maynard, and played the role of Marion Henry in Everyman's Law. She also starred as Betty Rose Hayden in Rip Roarin' Buckaroo, Jeanne Moore in The Phantom of the Range, which also starred Tom Tyler and Sammy Cohen, and billed as Betty Lloyd she starred in Wild Horse Roundup with Kermit Maynard, and that same year she starred in Fugitive Sheriff with Ken Maynard.
Fully certified Certificate of Authenticity provided with Provenance included.  

#movie autographed memorabilia