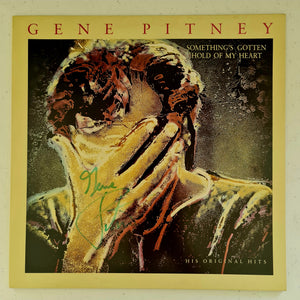 Gene Pitney Autographed 'Somethings Gotten Hold Of My Heart LP COA #GP44468
Gene Pitney autographed this LP on the 8th of October 1999 in Worthing, UK.

October 8th, 1999 was part of a tour by the American singer-songwriter Gene Pitney, who was known for his distinctive voice and romantic ballads in the 1960s and 1970s. Pitney had a successful career as a solo artist, as well as a songwriter for other artists.

Looking for a unique piece of music memorabilia that is sure to impress? Look no further than this autographed album cover of Gene Pitney's "Something's Gotten Hold Of My Heart." This iconic album features some of Pitney's most memorable tracks, including the title track which topped the charts in the UK and several other countries.

But what really sets this piece apart is the fact that it comes with a certificate of authenticity from Authentication Services Australia. This ensures that the autograph is genuine and that you can trust in the authenticity of this rare collectible. You can rest assured that you're getting a truly one-of-a-kind item that is sure to impress any music fan.

Gene Pitney was a legendary singer-songwriter who rose to fame in the 1960s with hits like "Town Without Pity," "Only Love Can Break a Heart," and "Twenty Four Hours from Tulsa." He was known for his powerful voice and emotional ballads, and he influenced countless artists over the course of his career. He was inducted into the Rock and Roll Hall of Fame in 2002, cementing his legacy as one of the greatest artists of all time.

So whether you're a die-hard Gene Pitney fan or just looking for a unique piece of music memorabilia to add to your collection, this autographed album cover is sure to impress. Don't miss out on the chance to own a piece of music history – order yours today!
Tags:
# Music Memorabilia