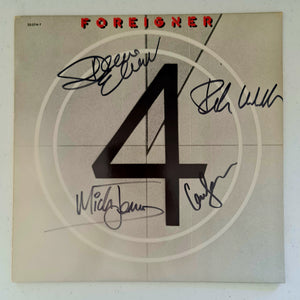 Foreigner Autographed '4' LP COA #FN59743
Foreigner memebers Mick Jones, Lou Gramm, Dennis Elliott & Rick Wills) autographed this LP on the 12th of April 1982 in Berlin, Germany.

April 12th, 1982 was part of a tour by the British-American rock band Foreigner, which featured members Mick Jones, Lou Gramm, Dennis Elliott, and Rick Wills. Foreigner was known for their high-energy rock anthems and memorable ballads, and their music was immensely popular in the 1970s and 1980s.

Looking for a rare piece of autographed rock memorabilia that will take your collection to the next level? Look no further than this autographed album cover of Foreigner's iconic album "4", authenticated by the renowned Authentication Services Australia.

This album cover is the real deal, featuring the signatures of all five members of Foreigner, including Mick Jones, Lou Gramm, and Dennis Elliott. It's a must-have for any true fan of the band, and with the added assurance of the certificate of authenticity, you can be confident that you're getting the genuine article.

Foreigner is one of the most beloved rock bands of all time, with countless hits like "Urgent", "Waiting for a Girl Like You", and "Juke Box Hero". With over 80 million records sold worldwide, they've left an indelible mark on the music industry and continue to captivate audiences around the globe.

So don't miss out on this rare opportunity to own a piece of rock history. Whether you're a lifelong Foreigner fan or simply a collector of autographed memorabilia, this album cover is sure to become a treasured part of your collection. And with our search engine optimized listing, you can easily find and purchase this amazing piece of memorabilia to add to your collection.
Tags:
# Music Memorabilia