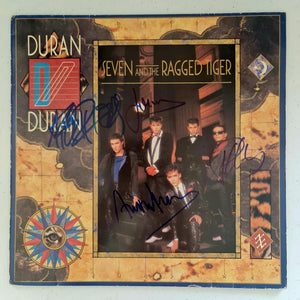 Duran Duran Autographed 'Seven and the Ragged Tiger' LP COA #DD39722
Duran Duran (Nick Rhodes/John Taylor/Andy Taylor/Roger Taylor) autographed this LP on the 11.June.2005 in Berlin, Germany.

June 11th, 2005 was part of a tour by the British new wave band Duran Duran, consisting of members Nick Rhodes, John Taylor, Andy Taylor, and Roger Taylor. Duran Duran is known for their innovative music videos, stylish fashion sense, and enduring popularity as a pop and rock act.

Looking for a rare and valuable piece of music memorabilia? Look no further than this authentic autographed album cover of Duran Duran's 'Seven and the Ragged Tiger'!

This album cover is not only signed by all members of the iconic 80s band, but it has also been authenticated by Authentication Services Australia, guaranteeing its authenticity for fans and collectors alike.

Duran Duran was formed in 1978 in Birmingham, England and rose to fame in the early 1980s with hits like "Hungry Like the Wolf" and "Rio". 'Seven and the Ragged Tiger' was released in 1983 and included hit singles "The Reflex" and "New Moon on Monday".

This autographed album cover is a must-have for any Duran Duran fan or collector of music memorabilia. It's a rare piece of history that captures the essence of one of the most iconic bands of the 80s.

Don't miss your chance to own this authentic piece of music history. Place your order today and add this autographed Duran Duran album cover to your collection!
Tags:
# Music Memorabilia