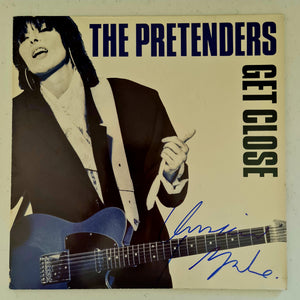 Chryssie Hynde Autographed 'Get Close' LP COA #CH98798
Chryssie Hynde autographed this LP on the 17th of April 1987 in Berlin, Germany.

April 17th, 1987 was part of a tour by the American rock musician Chrissie Hynde. Hynde is best known as the lead singer and songwriter for the iconic rock band The Pretenders. The band was known for their unique blend of punk, pop, and rock music, as well as their enduring career and numerous hit songs over the years.

Looking for a unique addition to your autographed memorabilia collection? Look no further than this autographed album cover of Chryssie Hynde's "Get Close," authenticated by Authentication Services Australia with a certificate of authenticity.

Chryssie Hynde is a legendary singer, songwriter, and guitarist who rose to fame as the lead vocalist of the iconic rock band The Pretenders. With her signature smoky voice and undeniable stage presence, Hynde has become a true icon of rock and roll.

This autographed album cover is a must-have for any true fan of Chryssie Hynde or The Pretenders. With its bold, eye-catching design and iconic "Get Close" album artwork, this piece is sure to be the centerpiece of your collection. And with its authentication by Authentication Services Australia, you can be confident that you are getting a truly authentic piece of memorabilia.

So why wait? Add this one-of-a-kind autographed album cover to your collection today and show your love for one of the greatest rock and roll legends of all time. And with our search engine optimized product description, you can be sure that you're finding the best autographed memorabilia in the industry.
Tags:
# Music Memorabilia