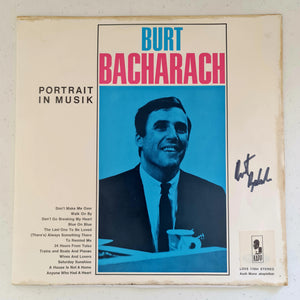 Burt Bacharach Autographed 'Portrait In Musik' LP COA #BB88797
Burt Bacharach autographed this LP on the 14.July.2018 in Berlin, Germany.

July 14th, 2018 was part of a tour by the American composer, songwriter, and pianist Burt Bacharach. Bacharach is known for his prolific career as a composer of popular music, with many of his songs becoming enduring classics.

Looking for an exquisite piece of music memorabilia? Look no further than this autographed album cover of Burt Bacharach's "Portrait In Musik," authenticated by Authentication Services Australia.

Burt Bacharach is an American composer, songwriter, and pianist who is known for his numerous hits spanning several decades. He has won six Grammy Awards and three Academy Awards, and has written music for many well-known artists, including Dionne Warwick, Dusty Springfield, and Elvis Presley.

This autographed album cover of "Portrait In Musik" is a rare gem for any fan of Burt Bacharach. It comes with a certificate of authenticity from Authentication Services Australia, ensuring that it is a genuine autograph from the artist himself. The album cover is in excellent condition, making it the perfect addition to any collection.

Don't miss out on this opportunity to own a piece of music history. Order this autographed album cover today and add a touch of Burt Bacharach's magic to your collection.
Tags:
# Music Memorabilia