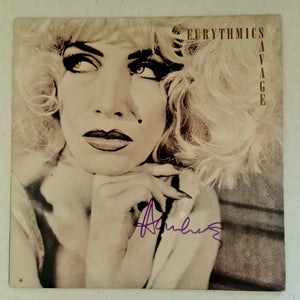 Annie Lennox Autographed  'Savage' LP COA #AL11178
Annie Lennox autographed this LP on the 13th of May 2003 in Berlin, Germany.

May 13th, 2003 was part of a tour by the Scottish singer-songwriter Annie Lennox, who is known for her powerful vocals and socially conscious lyrics. Lennox had a successful career as a solo artist, as well as a member of the Eurythmics, and is regarded as one of the most iconic and influential musicians of her generation.

Looking for a rare and authentic piece of music memorabilia? Look no further than this autographed album cover of Annie Lennox's iconic album "Savage"!

Annie Lennox is a renowned Scottish singer-songwriter who rose to fame as the lead vocalist of the Eurythmics in the 1980s. With a powerful voice and a unique sense of style, Lennox has become a beloved figure in the music industry.

This autographed album cover of "Savage" is a must-have for any fan of Annie Lennox or the Eurythmics. Featuring her signature on the cover, this piece has been authenticated by Authentication Services Australia, ensuring that it is a genuine and valuable item.

As a rare piece of music history, this autographed album cover is perfect for collectors and fans alike. Whether you want to display it in your home or add it to your collection of music memorabilia, this piece is sure to be a treasured item.

Don't miss out on this opportunity to own a piece of music history! Order your autographed Annie Lennox "Savage" album cover today and add it to your collection of music memorabilia.
Tags:
# Music Memorabilia