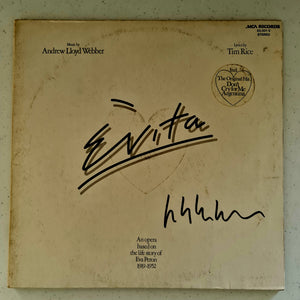 Andrew Lloyd Webber Autographed 'Evita'  LP COA #AW99945
Andrew Lloyd Webber autographed this LP on the 1.July.2007 in London, UK.

July 1st, 2007 was part of a tour by the English composer and musical theatre impresario Andrew Lloyd Webber. Lloyd Webber is known for his prolific and successful work in the field of musical theatre, with hit shows such as Jesus Christ Superstar, Cats, The Phantom of the Opera, and Evita.

Looking for a unique piece of memorabilia from the world-renowned composer, Andrew Lloyd Webber? Look no further than this autographed album cover of his hit musical "Evita"! This rare item has been authenticated by the experts at Authentication Services Australia, ensuring its authenticity and value.

Andrew Lloyd Webber is a prolific composer known for his contributions to the musical theatre world. He has composed hit musicals such as "Phantom of the Opera," "Cats," and, of course, "Evita." With countless awards and accolades to his name, Andrew Lloyd Webber is a true icon of the entertainment industry.

This autographed album cover of "Evita" is a must-have for any fan or collector of musical theatre memorabilia. With its stunning artwork and authentic signature, it is sure to be a treasured addition to any collection.

At Authentication Services Australia, we take great pride in our work and are committed to ensuring the authenticity and value of every item we authenticate. With our certificate of authenticity, you can rest assured that this autographed album cover of "Evita" is the real deal.

Don't miss out on this once-in-a-lifetime opportunity to own a piece of musical theatre history. Order your autographed album cover of "Evita" today!
Tags:
# Music Memorabilia