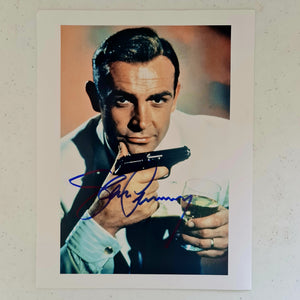 Sean Connery Autographed 'James Bond' Color 8x10 Photo COA #SC49734
Introducing an authentic piece of cinematic history - an 8x10 photograph of the legendary Sean Connery as James Bond, authenticated by the highly respected Authentication Services Australia.

This exquisite photograph captures the essence of Sean Connery's portrayal of James Bond, the suave and sophisticated British secret agent who has captivated audiences for generations. Connery's piercing gaze, impeccable style, and unmistakable charisma are all on full display in this stunning image.

This autographed photograph is a must-have for any fan of James Bond or Sean Connery, and would make a perfect addition to any collection of movie memorabilia. With its authenticity verified by one of the most reputable authentication services in the industry, you can be sure that this piece is the real deal.

As for the man himself, Sean Connery was one of the most iconic actors of the 20th century, with a career spanning over five decades. He was best known for his role as James Bond, which he played in seven films, but he also appeared in countless other classic movies, such as The Untouchables, Indiana Jones and the Last Crusade, and The Hunt for Red October.

Sadly, Sean Connery passed away in 2020, making items such as this autographed photograph all the more valuable and sought after. Don't miss your chance to own a piece of cinematic history - order now and add this incredible piece to your collection.
#movie autographed memorabilia