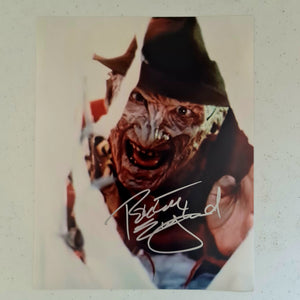 Robert Englund Autographed Freddy Krueger 8x10 Photo COA #RE35874
Attention horror fans and collectors!

We have an incredible autographed 8x10 photograph of the one and only Robert Englund, best known for his iconic portrayal of the infamous Freddy Krueger in the beloved Nightmare on Elm Street franchise. This photograph is authenticated by the reputable Authentication Services Australia, ensuring its authenticity and adding even more value to this already amazing piece.

Robert Englund is a seasoned actor with an extensive career in film and television. He has appeared in over 150 films and TV shows throughout his career, but it's his portrayal of Freddy Krueger that has made him a horror icon. His chilling performance has become a staple of the genre, and his character has become one of the most recognizable and beloved horror villains of all time.

This autographed 8x10 photograph is a must-have for any horror fan or collector. It's a rare opportunity to own a piece of horror history and a tangible reminder of the incredible talent of Robert Englund. Don't miss out on the chance to add this amazing piece to your collection.

Order now to own this authentic, autographed 8x10 photograph of Robert Englund as Freddy Krueger, authenticated by Authentication Services Australia.
#movie autographed memorabilia