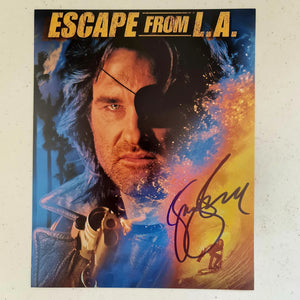 Kurt Russell Autographed Escape From L.A. 8x10 Photo COA #KR25874
Looking for an amazing piece of autographed memorabilia for your collection? Look no further than this stunning 8x10 photograph of Kurt Russell in 'Escape From L.A.', complete with a certificate of authenticity from Authentication Services Australia.

This incredible photograph captures Russell in all his action-packed glory, perfect for any fan of the cult classic film. And with the added assurance of a certificate of authenticity, you can be confident that this piece is 100% genuine and a valuable addition to your collection.

Kurt Russell is one of Hollywood's most beloved and talented actors, with a career spanning over five decades. From his early work as a child actor to his breakout roles in films like 'Escape From New York' and 'The Thing', Russell has become a true icon of American cinema. And his turn as Snake Plissken in 'Escape From L.A.' is one of his most memorable performances.

So why wait? Add this amazing autographed 8x10 photograph to your collection today and experience the thrill of owning a piece of movie history. And with our search engine optimized description, you can be sure that you'll find this incredible piece of memorabilia quickly and easily in the crowded autographed memorabilia industry.
#movie autographed memorabilia