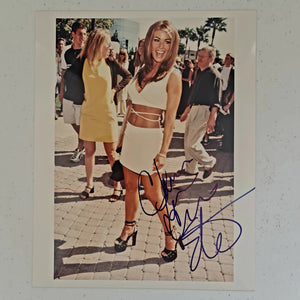 Carmen Electra Autographed 8x10 Photo COA #CE14976
Looking for a unique addition to your autographed memorabilia collection? Look no further than this stunning 8x10 photograph of Carmen Electra!

This beautiful photo captures Carmen at the height of her career, and is sure to be a prized possession for any fan or collector. What's more, this autographed photo has been authenticated by Authentication Services Australia, ensuring that you can be confident in its authenticity.

Carmen Electra first rose to fame in the 1990s as a model and actress, appearing in popular TV shows like Baywatch and Singled Out. She went on to have a successful career in movies, music, and television, and remains a beloved icon of pop culture to this day.

Whether you're a long-time fan of Carmen Electra or simply looking to add a unique piece to your collection, this autographed 8x10 photograph is the perfect choice. Don't miss your chance to own a piece of pop culture history!

For those in the autographed memorabilia industry, this Carmen Electra autographed photograph is a must-have item. With its certificate of authenticity from a respected third-party authentication service, it is sure to be a valuable addition to any collection. Be sure to act fast to secure this rare and highly sought-after item!
#movie autographed memorabilia