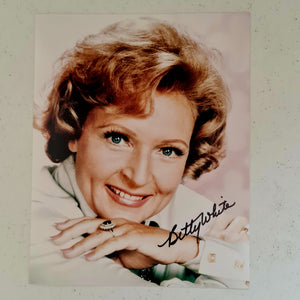 Betty White Autographed 8x10 Photo COA #BW38748
Looking for a rare piece of autographed memorabilia to add to your collection? Look no further than this authenticated 8x10 photograph of Betty White, one of America's most beloved actresses.

This photograph has been certified by Authentication Services Australia, ensuring its authenticity and value. Betty White's signature is boldly displayed on the photograph, making it a true treasure for any fan of her work.

Betty White is an American actress, comedian, and television personality who has been entertaining audiences for over 80 years. She began her career in radio and went on to star in several popular television shows, including "The Mary Tyler Moore Show" and "The Golden Girls." In recent years, she has continued to work in television and film, earning numerous accolades for her performances.

Don't miss your chance to own a piece of entertainment history with this autographed photograph of Betty White. It's the perfect addition to any collection of memorabilia, and a must-have for any true fan.

To purchase this authenticated 8x10 photograph of Betty White, contact us today. We offer fast and reliable shipping, and our prices are competitive with other sellers in the autographed memorabilia industry.
#movie autographed memorabilia