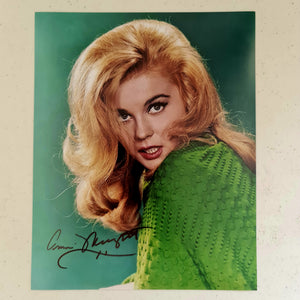 Ann-Margret Autographed 8x10 Photo COA #AM49374
Looking for a unique and valuable piece of autographed memorabilia? Look no further than this stunning 8x10 photograph of legendary actress and singer, Ann-Margret.

This beautiful photograph has been personally signed by Ann-Margret herself and comes complete with a certificate of authenticity from Authentication Services Australia, ensuring that you are purchasing a genuine and authentic piece of memorabilia.

Ann-Margret, born Ann-Margret Olsson, is a Swedish-American actress, singer, and dancer. She has had a career spanning over six decades, with notable roles in films such as "Bye Bye Birdie," "Viva Las Vegas," and "Carnal Knowledge." Ann-Margret has also released several successful albums, with hits such as "I Just Don't Understand" and "You're the One."

This autographed photograph captures Ann-Margret at the height of her fame and features. It is a must-have for any fan of this iconic actress and singer.

Don't miss out on the chance to own a piece of Hollywood history. Purchase this authenticated Ann-Margret autographed 8x10 photograph today and add it to your collection of cherished memorabilia.
#movie autographed memorabilia