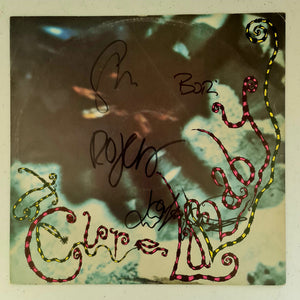 The Cure Autographed 'Lullaby' LP COA #TC44178
The Cure members Robert Smith, Simon Gallup, Boris Williams & Lol Tolhurst autographed this LP on the 7th of October 1992 in Berlin/Germany / Except : Lol Tolhurst - 15th of November 2011 in London, UK.

Attention all fans of The Cure! This is your chance to own a piece of music history with an autographed album cover of "Lullaby," authenticated by Authentication Services Australia.

The Cure is one of the most iconic bands of the 20th century, known for their distinctive sound that combines elements of post-punk, gothic rock, and new wave. Frontman Robert Smith's haunting vocals and signature guitar riffs have earned the band a dedicated following of fans around the world.

Released in 1989, "Lullaby" is one of The Cure's most beloved songs, with its haunting melody and surreal lyrics. The album cover features a striking image of a spider, adding
to the song's eerie and mysterious vibe.

This autographed album cover is a must-have for any fan of The Cure or collector of music memorabilia. Not only does it feature the band's signature sound and style, but it has also been authenticated by a trusted third-party service, ensuring its authenticity and value.

Don't miss out on this opportunity to own a piece of music history. Order now and add The Cure's "Lullaby" autographed album cover to your collection today!
Tags:
# Music Memorabilia