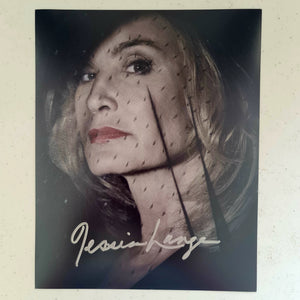 Jessica Lange Autographed 8x10 Photo COA #JL86972
Looking for an exquisite piece of autographed memorabilia? Look no further than this stunning 8x10 photograph of Jessica Lange's iconic portrait! This rare collectible has been authenticated by the trusted experts at Authentication Services Australia, ensuring its authenticity and value.

Jessica Lange is a highly esteemed American actress who has graced the stage and screen for decades. She has won numerous awards for her outstanding performances, including two Academy Awards, three Emmys, and a Tony. With a career spanning over 40 years, Jessica Lange has become a beloved figure in the entertainment industry.

This autographed 8x10 photograph captures Jessica Lange in one of her most captivating and alluring portraits. Her piercing gaze and striking features are sure to catch the eye of any collector or fan. And with the added assurance of authentication from the experts at Authentication Services Australia, you can be confident that you're getting a genuine and valuable piece of memorabilia.

Whether you're an avid collector or simply a fan of Jessica Lange, this autographed 8x10 photograph is a must-have addition to your collection. So don't miss out on this rare opportunity to own a piece of Hollywood history! Order now and add this stunning piece to your collection today.
#movie autographed memorabilia