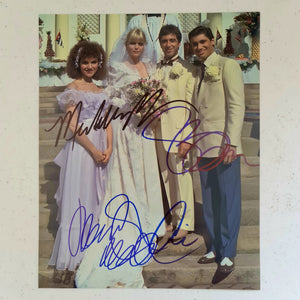 Al Pacino, Bauer, Mastrantonio, Pfeiffer Autographed Scarface 8x10 Photo COA #AP29734
Looking for a rare piece of autographed memorabilia? Look no further than this stunning 8x10 photograph featuring the signatures of four Hollywood legends: Al Pacino, Bauer, Mastrantonio, and Pfeiffer. This one-of-a-kind piece has been authenticated by Authentication Services Australia, so you can be sure that you're getting the real deal.

Al Pacino is one of the most iconic actors of our time, with a career spanning over five decades. He's known for his powerful performances in films like "The Godfather," "Scarface," and "Scent of a Woman." Bauer, Mastrantonio, and Pfeiffer are also highly acclaimed actors, with numerous awards and nominations to their names.

This autographed photograph captures the magic of these four legendary performers and is a must-have for any serious collector of Hollywood memorabilia. It comes with a certificate of authenticity from a reputable authentication service, so you can be confident in its authenticity.

Don't miss your chance to own this piece of cinematic history. Contact us today to make this autographed photograph a part of your collection!

#movie autographed memorabilia